When it comes to buying an embroidery machine, price should not be the only consideration. The RPS Reciprocator Protection System prevents downtime, and the patented system also protects the hoop. Plastic reciprocators can be broken and render an embroidery machine useless for days. It's better to choose a machine with a protective mechanism that protects your hoop than to risk it.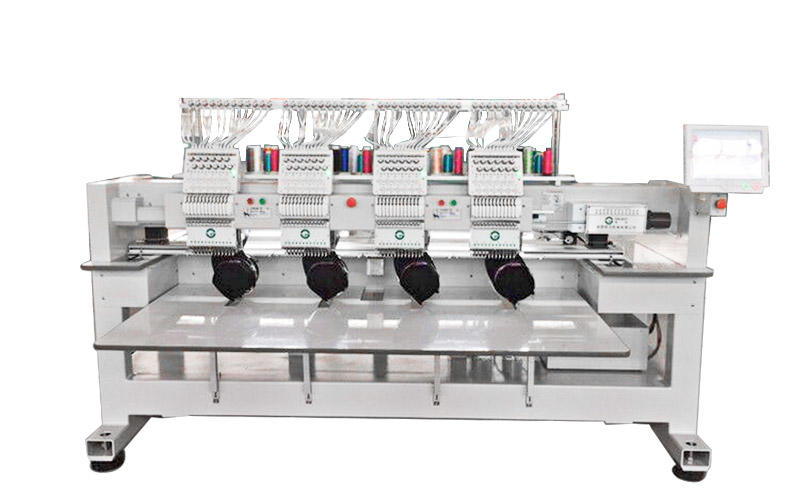 A multi-needle embroidery machine automatically changes threads while stitching the same design on multiple blanks. These machines are commonly used in factories and industrial settings that involve bulk production. The price of multi-needle embroidery machines increases with the number of heads. Beginner-friendly versions are available for free. To get the most from your machine, spend time reading the manual. If you have no prior experience in embroidery, start by making a basic design on a blank fabric or piece of cloth.
G1204A twin heads embroidery machine feature High definition true color 10-inch LCD touch screen computer,With photo embroidery function, 200 million stitches or 800pcs designAuto thread trimmer,auto color change.
The GX1501A-Y4 single head embroidery machine has Multi language supported, which you can change as you need. A number of features help you to customize your embroidery design. It has a 400mm * 600mm embroidery area, and built-in alignment tools. The machine can reads multiple design formats , like DST , DSB etc.
When choosing an embroidery machine, consider the requirements of your business. While it may be tempting to buy a cheap embroidery machine for personal use, a multi-purpose machine has higher capabilities. It can handle large embroidery jobs. Multi-head machines have two to twelve different heads, which can hold up to fifteen needles each. Each needle can hold a different colour. Therefore, you can choose the best multi-purpose embroidery machine for your business. You should not quit your day job immediately and get into business right away!
Multi-head machines are best for businesses that require large orders and a high volume of clientele. These machines can embroider multiple colours in one go. It also works on garments with pockets, so you don't have to remove them and reattach them. This is a great advantage if you're a growing company and take on a lot of custom orders. This multi-head machine makes it easier to get more done with less input.
Some people are hesitant to purchase a high-end embroidery machine, and this can put them off from starting their embroidery business. Buying a machine that is cheaper is not the answer to making money. Even though it may be tempting, it can compromise the quality of your products and services. That's why it's essential to make a budget and stick to it. You'll never know when a market might demand an upgrade.
Another option is to buy an embroidery machine that can work for both sewing and embroidery. The Brother SE400 embroidery sewing machine, for example, has a large 7.9-inch hoop, 137 built-in designs, and the ability to import.jef designs via USB. A bonus feature is that it can also make your own embroidery stitches. This machine also has an LCD screen, allowing you to view your designs and make changes. You can edit individual colors of embroidery thread to match the rest of your garment.
Aside from convenience and quality, customer satisfaction is the primary factor that makes a business stand out. Customer satisfaction leads to lower churn and increases customer lifetime value. Satisfied customers are more likely to repurchase products, return for more, and refer friends and family to your business. If you want to satisfy the needs of your customers, choosing the right embroidery machine will make it easier to meet their needs and create positive word of mouth.
In addition to allowing you to create beautiful bespoke designs, embroidery machines are also extremely convenient for mass production. You can even use your machine to create school uniforms or even hen do T-shirts, since you can make a design in a few minutes, and then transfer it to many other garments. You'll need to set up your machine properly so that it will work at its peak performance. You'll also need to check its technical specifications to make sure it's in working condition.
One of the biggest costs associated with an embroidery machine is the hoop size. The lowest-cost machine has a hoop size of four inches by four inches. Larger machines allow you to stitch larger projects in the hoop. Buying a large machine may cost you more than a car. Don't forget that the cost of embroidery thread can quickly add up. Some models can cost up to twenty thousand dollars. A multi-needle machine, which can stitch up to 200 inches of fabric, will run you even higher.