Starting an Industrial Embroidery Business requires many things. You will need to get a Seller's Permit (a state-issued permit) that will allow you to collect sales tax from your customers. You must also register with the state unemployment tax and workers' compensation programs, if applicable. The SBA can help you get these licenses and permits. In addition, you will need small business insurance. Read on to learn more about all the requirements.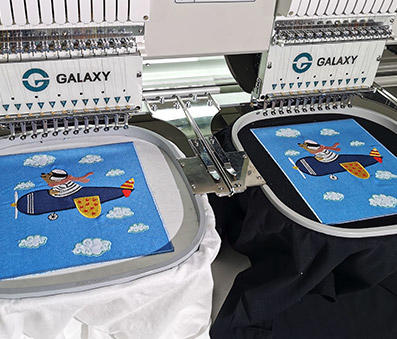 Entrepreneurship
If you've ever wanted to own your own business, you may consider starting an embroidery business. This line of work requires high-quality embroidery machines and printing equipment. Since this business requires heavy equipment, you'll need to invest in sound investments, as well as training for your employees. Also, embroidery machinery is not easy to handle, so you'll need to invest in the appropriate training to operate it. Embroidery machinery and digital design software go hand in hand.
While many entrepreneurs start with a specific niche, it is not smart to do so right away. Start by being general, and then choose the niche that suits you best. This broad approach won't lead you to a focused business. Instead, you need to start small, but make sure you invest in time-saving software and embroidery systems to improve your productivity and earn more money in the long run. Here are some tips for starting a business in embroidery:
Equipment
If you're thinking about starting an industrial embroidery business, there are several things you should know about it. First of all, your target audience is online. In order to stand out in this competitive environment, you'll need to know how to make your business more visible online. It is essential to provide relevant information on social media, post high-quality photos, list on Google My Business and have a website. These three things will help you grow your business.
If you're interested in starting your own embroidery business, you need to consider purchasing printing and embroidery machines. While you may have some savings to invest in the initial equipment, you can get the best financing rates from lending institutions. Financing for embroidery business equipment may not be the most difficult thing you need to do in 2022.
Market
If you are thinking of starting an embroidery business, one of the first steps you need to take is to create a business plan. Many new business owners forget this step, and you'll be wasting your money if you're not careful. It is important to plan ahead because it determines what types of equipment and supplies you will need. The Embroidery Trade Association (ETA) can help you come up with a business plan.
Once you have your business plan in hand, it's time to begin evaluating the business itself. Look at the equipment and decide if it's lease-purchased, paid-for, or still under warranty. Find out what kind of service contracts or warranties it has and what they're worth. Whether the seller is an owner or broker, be sure to ask for quality accounting records that show profits and salaries. Make sure to get a website too.
Customer communications
Having good customer communications is crucial to your success as an industrial embroidery business. Whether you're a one-person operation or a large company with a national presence, you'll need to reach out to customers and communicate effectively to achieve your goals. Thankfully, there are several ways to improve your customer communications. Follow these tips to improve your customer communications and increase the chances of a successful business. Read on to learn more.
A clear and concise business plan is key to achieving your goals and is the best way to stay on track. When creating your plan, you'll want to consider your unique value proposition, which is what will set you apart from your competition. What makes your embroidery business better than its competitors? This could be better product design, marketing, sales, or any combination of these. Once you have a clear picture of who you are and what you can offer, you can focus on the business' goals.
Marketing
If you are in the embroidery business, you may want to consider marketing your embroidery business on the Internet. While this may involve creating a website, you will also need to use social media to spread the word about your work. A business website will allow you to show off your work and attract new clients. In addition, you can create business cards to promote your embroidery business. Here are some tips to get started with marketing your embroidery business online. You will also want to keep a good business card handy.
Market research is essential in marketing an embroidery business. You can do this by checking hashtags on social media and finding out what your target audience is looking for. Ensure that you have the right equipment and tools to cater to this audience. You can also consider exhibiting at events to make new connections. You can even make sales at these events. Make sure to create a business plan for your embroidery business. After that, you can focus on establishing a network of contacts.