Embroidery is the art of decorating fabric and other materials using a needle and thread. It is a multi-user process that combines both hand and machine embroidery. Traditionally, embroidered items were a symbol of status and wealth. Embroidery is a multi-user process that uses a satin stitch.
Embroidery is the art of decorating fabric or other materials with needle and thread
Embroidery has a long history and has a wide variety of styles. It may be a common and widespread activity, or a specialized craft performed by a small group of experts. From medieval times to the present day, embroidery has been used to decorate a wide variety of items, from handkerchiefs to clothing to flags. Historically, embroidery has been a sign of high social status. During the Middle Ages, embroidery was visible on handkerchiefs, uniforms, flags, leather belts, slippers, and horse trappings.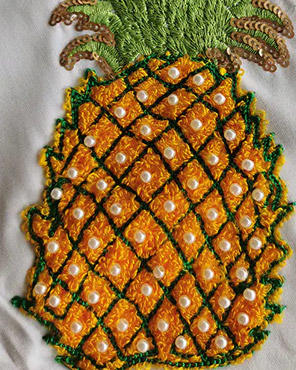 Embroidery is widely practiced as a traditional folk art, using materials accessible to nonprofessionals. Examples include the Norwegian Hardanger embroidery, the Ukrainian Merezhka embroidery, and the Irish Mountmellick embroidery. In Japan, embroidery techniques such as sashiko have a practical purpose as well. Sashiko is a traditional form of embroidery used for reinforcing work clothes.
It is a symbol of wealth and status
The history of embroidery dates back thousands of years. Some patterns can be traced to the Cro-Magnon civilization (30,000 B.C.) and were copied in the Middle Ages. During this time, the technique gained popularity in Europe and was considered a form of high art. Today, the process of embroidery can be performed on leather, silk, and hide.
Early examples of the process date to the Warring States period in China in the 5th and 3rd centuries B.C., and embroidery traces can be found in the fossilized remains of clothing from this time period. Evidence of this technique is found in pictures of Chinese thread embroidery, and silk embroidery dates back to the Warring States period. The process spread to other civilizations in the Orient and Middle East.
It is a multi-user process
Multi-user embroidery is a method of embroidery in which several users work on the same design.
Several embroidery machines
have the capability of reading and editing embroidery designs. This feature helps to create a more streamlined production process. The embroidery process involves digitizing the design file with the help of a digitizing software. Once digitized, the design file is then transferred to an embroidery machine. It is important to save the original digitized design file. Embroidery digitizers should avoid stitch files that have lost important information.
Embroidery machines come with different attachments. Some have built-in designs, while others can be customized. Some machines are equipped with a digitally controlled presser foot. Embroidery machines that have a built-in design program usually have more than one hoop.
It uses a satin stitch
A satin stitch is a decorative stitch used in embroidery. It's used to create an outline for a shape. To create a decorative stitch, you need to bring up the needle from the back of the fabric and place it on the edge of the image. When you are finished stitching, bring the needle back down and insert it into the opposite side of the shape. When you're finished, you'll notice that the fabric has a taut appearance.
Satin stitching is a form of embroidery, a stitch that's usually made with thin threads. The thinner the thread, the smoother and more even the finished design will be. It's also possible to use stranded thread, but fewer strands will make the design look smother. Typically, you need a maximum of two strands for a satin stitch, but you can vary this to your own preferences. It's also important to start at the middle of the design, to avoid slanted stitches.
It involves a hoop
An embroidery hoop is a device used to place the fabric in a circular shape. This helps in refining the placement of the design. The hoop is placed inside the embroidery machine and the needle is attached. The design is then threaded into the machine using the first color of embroidery thread. After threading the needle, the machine takes care of stitching. The machine will stop stitching when there are color changes and removes the hoop once the design is finished. Afterward, the project can be removed from the hoop and the stabilizer is cut off.
You can find hoop sets in craft stores. They come with different sizes and shapes. Generally, a hoop with a circular shape is the best. Otherwise, you might end up with a misshaped or uneven hoop.
It uses colored thread
The embroidery process uses colored thread to create designs on textiles. Generally, the weight of the thread varies from 40 wt (thickness) to 20 wt (fineness). The thread is chosen according to the desired effect. For example, a small design that you would like to be detailed with high quality will require a thicker thread than a small one, while a large design will require a finer one.
Embroidery is a form of personalization that is both aesthetically pleasing and non-toxic. Whether you are looking for a handmade gift or are looking to add an extra personal touch to a garment, embroidery is a great option. The process is also very affordable and doesn't require a steep learning curve.