If you'd like to create bespoke logos and designs, machine embroidery is an excellent option. The technique allows for a long-lasting design, and it's especially useful for sports kits and high-quality work uniforms. You can even use your sewing machine to embroider logos or monograms.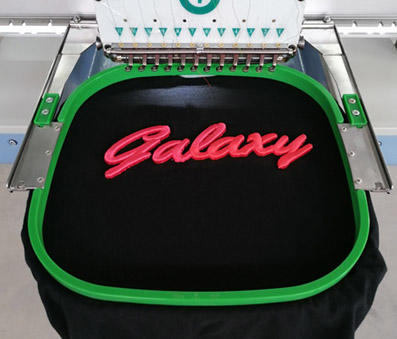 Free-motion machine embroidery
Free-motion machine embroidery is a technique where the fabric is manipulated with a basic sewing machine and a basic stitch. The basic zigzag stitch is used to create thick lines and borders. The embroiderer then maneuvers the fabric under the needle and covers or lowers the "feed dogs" so that the fabric moves under the needle without being pressed by the feed dogs.
During free-motion embroidery, it is important to control the length of each stitch. The length of the stitch should be set to zero, which will help to improve accuracy. This will also allow you to have the look of the stitch that you want to achieve.
Adding logos
Adding logos to machine embroidery is a process that involves stitching a logo or design directly into fabric using a mechanized needle. The machine uses up to 15 needles with a variety of colors to create the desired look. Digital embroidery machines are faster and more efficient than traditional embroidery techniques. Factory production lines can have multiple machines working simultaneously.
In order to make the most out of this technique, you need to carefully select the font and size of the design. For example, you don't want the logo or text to be so small that the embroidery machine cannot see the details. A good rule of thumb is to keep the letters at least four millimeters tall. This is because smaller letters require smaller needles and thread, which can increase the overall cost.
Adding monograms
Adding monograms to machine embroidery can be done with a variety of software applications. Some of these programs offer customization options for monograms, such as changing the typeface or size. Some others allow you to add custom shapes to your embroidery. Some of these programs are free or inexpensive.
To begin stitching a monogram, first set up the embroidery machine. You'll need to load the embroidery file and set it up. If you have a sewing machine, it will have instructions to help you with the embroidery process. First, you will need to make sure that the hoop is the correct size for the monogram you're stitching. The hoop should match the fabric's center lines, as this will help you align the monogram properly.
If you're not comfortable using a sewing machine, you can use fabric paint. Fabric paint is available at hobby stores. When using fabric paint, make sure to prewash your fabric first. After that, iron it before stretching it over your hoop. If you're using acrylic paints, you may want to dilute them with fabric medium to avoid them from setting too hard. Then, heat set the fabric paint by ironing from the back of the fabric.
Creating patterns
The first step in creating patterns with machine embroidery is to create a design that you want to embroider. You can do this by sketching out a design on a piece of paper or by doodleing it on a piece of fabric. It's helpful to trace any complicated lines before you begin to embroider them. This will help you create a clean design. However, you should not trace too many details, since this can make the embroidery too difficult to complete.
Once you've made a design, you must load it into the machine. Most machines will support different file formats, but you'll need to convert the patterns in order to use them with the machine. The file formats are proprietary formats that are specific to the particular embroidery machine you have.